Inlay Marquetry
Next Course:
INLAY MARQUETRY.  3 to 4 days
Please send an email for details.
Yannick Chastang is the only person in the world to teach this technique. Following extensive research and close study of historical furniture, Yannick publicised the technique in his book Paintings in Wood: French Marquetry Furniture (2001). This technique was ignored, for years, by furniture historians who believed it had vanished centuries ago. However, it is now accepted that some of the finest eighteenth century royal furniture, including pieces by Chippendale, were made using the inlay technique. The inlay technique is very carefully described in Roubo and the course will present an opportunity to look at what Roubo can teach us.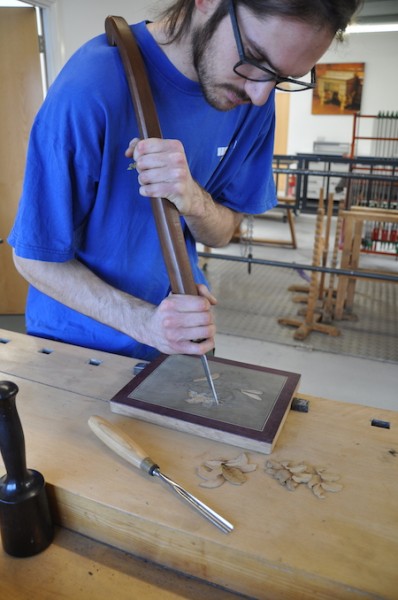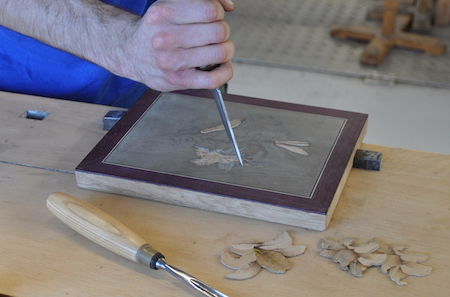 This four-day course will introduce students to a different way of making marquetry and will involve making your own tool. The technique is not too dissimilar to the "window" technique practised with a scalpel however the differences arise because of the use of the special long-handled shoulder knife and the use of extra thick and hard saw cut veneers. A scalpel cannot deal with such hard veneers. The similarities between the window techniques and the inlay technique make the inlay technique a perfect introduction to more complex and advanced techniques, particularly anyone with some experience of the window technique.
One of the greatest advantages of this technique is the complete flexibility of adding a detail or another at any time. The design can be continually adjusted while in the creation phase. Mastering this technique will open many new artistic avenues.
As well as making your own shoulder knife, you will produce a small panel over the 4 days, using extra thick saw cut veneer of contrasting colours. You will select the materials, learn how to lay the background veneer using animal glue, assemble and cut the veneer, learn how to shade the wood using the "sand shading" or scorching technique and then learn to inlay your marquetry pieces.
This course will be taught and hosted by Yannick Chastang in his Kent workshop. Course size is limited to 1 student to enable the close supervision that such finely detailed work requires.
All tools and materials are provided. Each student will be assigned a donkey. Donkeys will be available for purchase at the end of the course.
Courses