The Lola, shagreen desk
The Lola
Dressing table or small writing desk (une table d'appoint)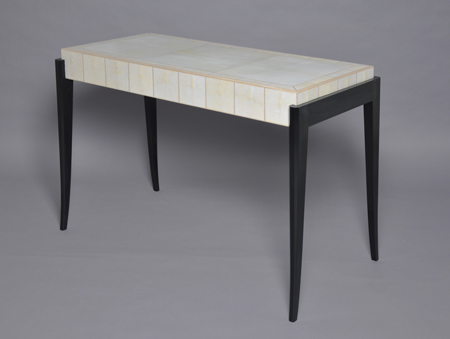 This elegant small table combines Hollywood Art Deco glamour with à la 1930s Exotic flavour. The clean lines and simplicity, reminiscent of the Art Deco period, align perfectly with contemporary taste for elegance and simplicity. It is made from the highest quality materials available today using the best possible techniques. The table is hand veneered in white shagreen finished with a same-nuri lacquer. This traditional Japanese hand applied technique fills the grain with a light-coloured lacquer to give a smoothly refined feel. Each piece of shagreen has been cut around the central spicule and positioned on the table to give a repeating pattern of centred pearls. The table has been edged in clean white sycamore that defines the carefully proportioned squares that form the geometrical design. The elegant, gently sabred and highly-polished legs are of ebonised walnut. The black and white colour scheme harks back to the Art Deco period while the choice of materials is reminiscent of the Art Deco passion for the exotic. The dressing/writing surface is of natural parchment leather. The front of the table is fitted with two hidden drawers.
Dimensions 106cm x 51cm x 75cm high
Price: £27,000
Prices include VAT but do not include delivery. Prices are correct as of 2018.
For use as a dressing table, combine with the seahorse mirror.