Dressing room tables: "the Valentino tables"
The Valentino Tables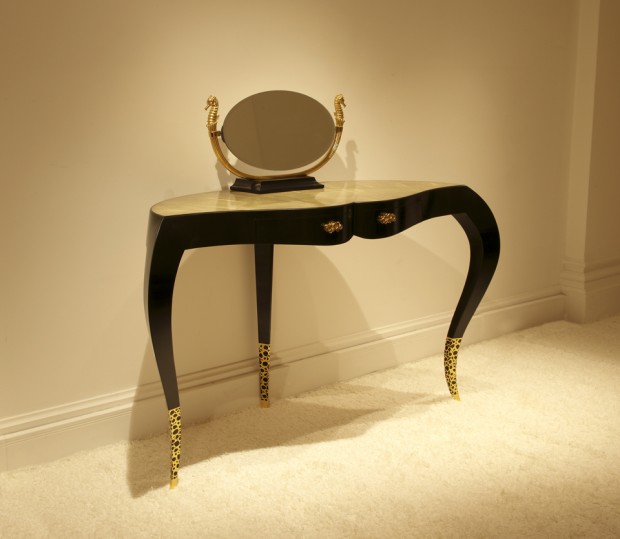 These elegant tables are a tribute to Hollywood of the 1920s. The sensuous lines have been updated for the 21st century and the new tables are at once strikingly modern and luxurious, while at the same time evocative of the glamour and style of early Hollywood. They celebrate the beauty of the most rare and most expensive woods and materials available today. The tables are available in either ebony or pink ivory. The table surface is veneered in true white shagreen with a same-nuri lacquer finish. The ebony table is finished with black same-nuri lacquer shagreen and the pink ivory table with red same-nuri shagreen.
The unique gilded bronze handles, after a design by Yannick Chastang, were hand-modelled in clay before being cast in bronze. All cast bronze are carefully finished, chased and gilded with fine 24 carat gold. The table legs are decorated with similar bubble-motif gilding which has been applied to the surface of the wood.
The matching "Art Deco" stool is available in ebony colour or solid pink ivory. It comes with a seat in a traditional upholstery of horsehair stuffing for longevity and comfort with a fabric cover of woven horsehair (textile colours available: black or ivory).  The table is envisaged as part of a dressing set, however a table can be purchased alone for use as a console table. The mirror is attached with hidden magnets so can be easily removed from the table top. This ingenious device ensures perfect centralling of the mirror as well as stability.
The elegantly curved oval Seahorse Mirror is an original design by Yannick Chastang in keeping with the "Art Deco" style of the Valentino table. Each mirror frame is cast to order in bronze then chased and gilded. The mirror frame is mounted on an ebony or pink ivory base which follows the shape of the table.
Price for the set of dressing furniture comprising table, stool and seahorse mirror if ordered together:
Set of 3 items (ebony or pink ivory)                       £76,500
Prices for each item if purchased separately:
Valentino table (ebony or pink ivory)                    £64,500
Seahorse Mirror                                                        £12,000
Valentino stool                                                           £5,100
Prices include VAT but do not include delivery.