Chandelier, Art Marquetry
Art Marquetry by Yannick Chastang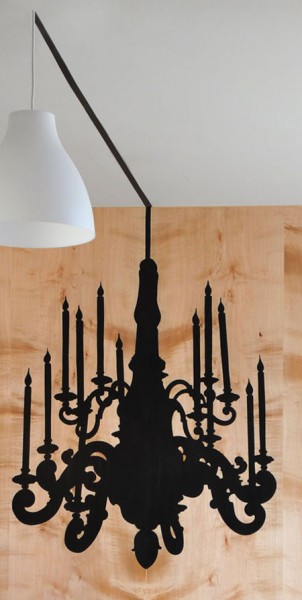 Wall panel (1.2m x 90cm). Executed in ebony (from managed sources) on a background of sycamore. Shadow of an 18th century gilt wood chandelier produced courtesy of Waddesdon Manor.
This work investigates our hankering and nostalgia for the past versus today's needs for the practical and cost-efficient. It is a contrast of modern design and traditional shapes, a dramatic rendering of past and present. Within a simple light fitting is a plethora of history and wealth of design and creativity that has evolved into a simple, minimalist shape; a blueprint of style now streamlined and restrained. The work also references technological advancement showing how light from a myriad of candles can now be replicated by one small light bulb.
Cut by hand, and incorporating over 50 hours of craftsmanship, the panel sets its own standards of painstaking skill and artistry, using traditional methods and materials.
Price: £8,000 including VAT
The Empreintes collection
Yannick Chastang challenges our views about the place of antiques and quality furniture in our world, about whether the disposable items of today really represent value for money and best use of our natural resources. What is the environmental impact of the plastics we so readily use today, the fuels and energy involved in manufacture, related pollutants and the realities of disposal? Is there room for meticulous, quality workmanship and aspiration to the highest standards of human achievement in a world driven by novelty and economy?
This new collection explores man's connection with the past through decorative arts. Juxtaposing the spare, minimal and functional designs of today against the lavish, extravagant styles of a former age, Yannick Chastang uncovers the shadows of the past that lie behind the evolvement of all today's modern pieces. Within every object is an empreinte of a former time that has cast a shadow into the future. The shadowed designs may be aesthetically redundant but they are the moulds and inspiration for all modern designers who have, often unaware, absorbed these patterns of the past and created new designs based upon them.
Marquetry is an ancient art, time consuming and expensive and, as such, reserved for the social and financial elite. In today's photographic world it has lost its place and value and become a redundant form of figurative art. Mass production of furniture, and the popularity and success of international conglomerates like Ikea, has enabled widespread and general access to new designs and functional furniture. Thanks to mass production everyone can now afford furniture however, at the same time, the result is a unification of art and style; we all have the same. Marquetry by contrast is exclusive, not only because of the cost, but because each hand-cut piece is inevitably unique. Ikea can make a pine chair by machine in only minutes, and can box and sell it for only £15. In contrast, the marquetry shadow has been laboriously cut and is made from ebony, not only one of the most luxurious and rarest materials of the past, favoured by kings and the rich, but also one of the hardest woods to work with and to process.
Empreinte. Dictionary definition: a footprint or (geologically) a fossilised footprint left of an extinct species or (sculpture) a mould.
Yannick Chastang's shadows represent furniture production of the past and pay homage to their role as empreintes of all today's design and manufacture. At the same time, they evince nostalgia and regret for what we may have lost.
Exhibited in A City Without a Song at the Averard Hotel (Edition 2), Galleries 11 & 12, 10 Lancaster Gate, London W2 3LH. This exhibition curated by Karina El Helou from studiocur/art features works by Yannick Chastang, Ken Sortais, Nika Neelova, Taisuké Mohri and Raphael Barontini.
6th February to 27th February 2016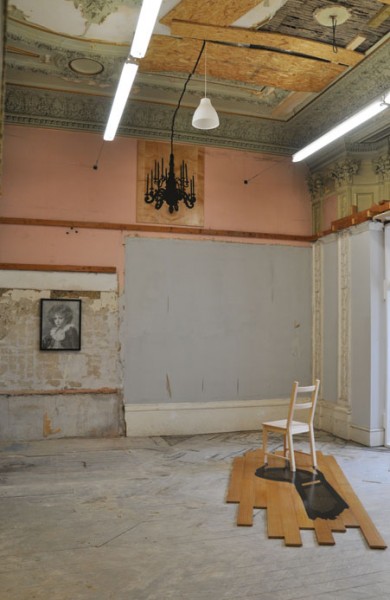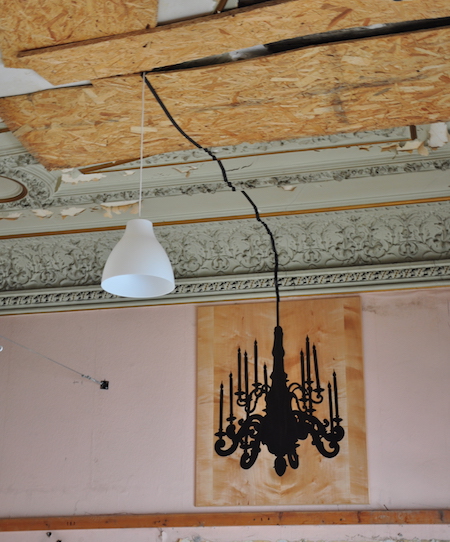 Review of the exhibition in the Saturday Times:

Short article in the Antique Trade Gazette: