Acrylic Mirror
Acrylic Mirror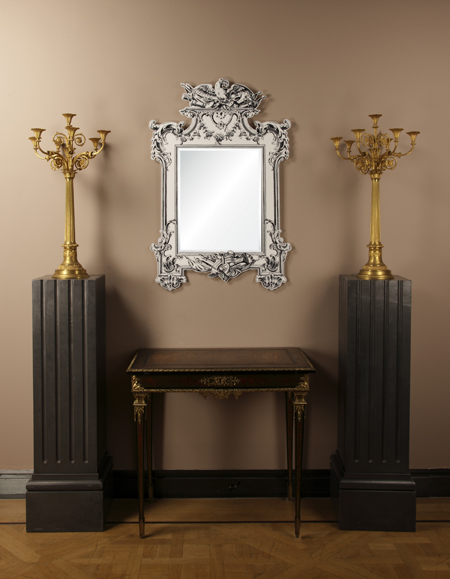 Stylish and quirky, modern but traditional, Yannick Chastang's novel collection of acrylic mirrors combine the simplicity of the modern with the elegance of the antique. The mirror reinterprets Rococo style, updating it for the twenty first century and would be an eye-catching and unusual addition to any interior, whether contemporary or traditional in style.
The design is directly taken from Chippendale as was published in the Gentleman and Cabinet-maker Director in 1762. The prints have been scanned to super high resolution and modified on Photoshop to enable the highest quality printing. The mirror frames are printed on a thick, top quality, white acrylic using the latest digital printing technology. The image is repeatedly printed to create a build up of ink suggestive of embossing. Quality of printing is paramount and the contrast between the polished white acyclic and the raised deep black ink give the frames a tactile quality. The mirror frame is outline cut using the latest CNC technology. The glass plate is bevelled in a traditional style that complements the old-fashioned style while giving a clean-cut classy edge. The mirror frame projects from the wall by a couple of centimetres allowing a beautiful shadowed rear that highlights and adds depth to the mirror.
Currently 2 designs / models available:
The large eagle topped mirror 106cm x 71cm with a mirror plate of 52cm x 42cm.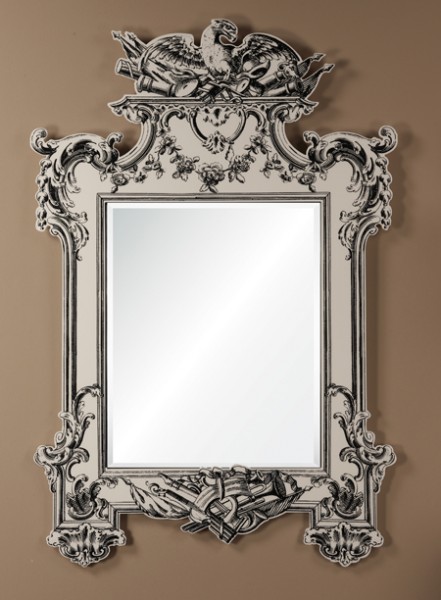 Price:£900 each (£750 + VAT)
A smaller rococo version measures 90cm x 62cm with a mirror plate of 47cm x 36cm.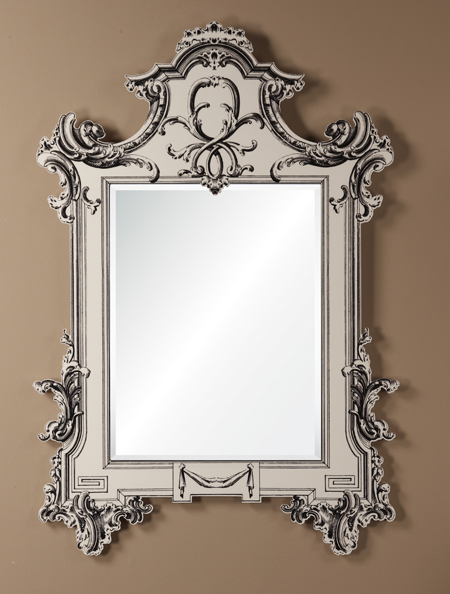 Price: £840 each (£700 + VAT)
Comes with a simple wall fitting that guarantees easy and level fixing to the wall.
Each design is a limited edition of 20. They are hand signed by Yannick Chastang and numbered. Mirrors can be made to bespoke sizes and colours, if desired.